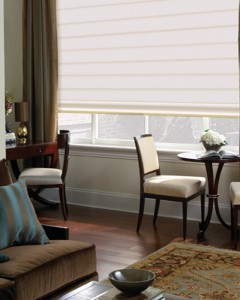 Blinds on Time Window Treatment Blinds are a great way to begin building a new custom look for window coverings ideas. Whether you're looking for Wood Blinds, Foxwoods Blinds, Aluminum Window Blinds, or Vertical Window Blinds, we have a large selection.
Wood Blinds
Basswood Natural Wood Blinds are the classic choice for almost any decor, offering a neat, clean, and classy look. Rich, warm Natural Wood Blinds are among the most environmentally sound and promotes residential energy efficiency. A unique array of wood variations, exclusive natural wood grains and scrumptious stained color classics make these window coverings an envious choice for your home.
Coordinate with Wood Vertical Blinds to create a traditional, unified elegance of wood blinds with a proven window blind operating system. Good for use in any room except rooms with very high humidity. Bassre's warmth and beauty in your home.
Foxwoods Blinds
Looking for horizontal wood blinds with a rich look and feel of hardwood …at half the price? You'll love our Faux Wood Window Blinds. They are an affordable and practical way to bring wood-grain beauty to your home. Our Faux Wood Blind is economical, durable and naturally attractive and won't warp in high-humidity areas. Faux Wood Window Blinds come in 2" and 2 ½" slat sizes to solve all your design, privacy and light control needs.
Mini Blinds
Metal and Vinyl Mini Blinds offer all the benefits of custom made mini blinds at an incredible price. These budget-conscious vinyl and aluminum mini blinds come standard with left-side wand tilter/right-side cord lift controls, as well as a specially designed clutch tilter and crash-proof cord lock to ensure smooth, reliable operation. A full array color classics make these Metal Mini Blinds a great choice if you're looking for premium quality and style at a budget price. Window Mini Blinds are great for play rooms, dorm rooms or dens.
Vertical Blinds
Our Vinyl Vertical Blinds are a great way to begin building custom window coverings. Available in 1", 2" and 2.5" slat sizes, Blinds n Time's Vinyl Vertical Blinds also feature add-ons such as designer fabric tapes, decorative valances, and remote control shades. Our customizations include special shapes and sizes as well as continuous cord loops. Blinds on Time have your windows covered with our Vinyl Vertical Blinds collection!
Vertical Blinds when your needs require window dressing that are as tough as they are attractive. Vinyl Vertical Blinds are so durable that you won't have to replace them for many years. Vertical Blinds are available in eight styles, including embossed to add texture to your space. Use Vertical Wood Blinds with your Horizontal Wood Blinds to add a pleasing contrast to any space.
http://www.blindsontime.com/store/Blinds/