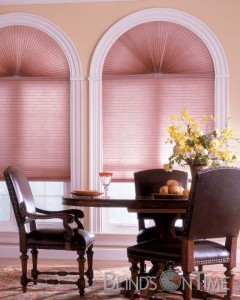 Shades
Our vast variety of beautiful, economical roller window shades range from honeycomb cellular shades that offer great residential energy efficiency to our Roman Shades which combine the insulating benefits of a cellular shade with the beauty of drapery fabrics. The Wood Woven Shades are made of natural materials for a relaxed and contemporary look. Vinyl fabrics in our Roller Window Shades provide blackout power –privacy when you want it and the sun when you choose. If soft fabrics suit your style, the superior pleat retention of our Window Pleated Shades gives crisp, clean lines. Or try our Horizontal Shades which combine the softness of a cellular honeycomb shade and the functionality of a horizontal blind. No matter which Blinds OnTime window treatment shades you choose, we guarantee you'll get a quality
HoneyComb (Celluler)
our Cellular Honeycomb Shades feature a unique patented design that is durable and provides residential energy efficiency. The insulating characteristics of the honeycomb cellular shades keep the warmth in during the winter months and the heat out during the summer blocking 99%of damaging rays.
Choose a translucent cellular honeycomb shade to gently bathe your room with light or a room dimming fabric to give a more private feel. You'll be in awe of the warm, textured effect your room will take on with these amazing honeycomb shades.
Woven Wood
Our Woven Wood shades give the room a relaxed and contemporary look at the most affordable price around. Our natural woven shades combine artistic style and high quality materials with and interesting array of wood variations. You'll delighted with the choices of grains, stains, and whites that are available in a smooth or textured finish in our woven shades allowing you to match the look and feel of your decor. our woven shades have an exotic style that adds texture and a sense of simple elegance to any room.
For Further information visit at: – http://www.blindsontime.com/store/SHADES/