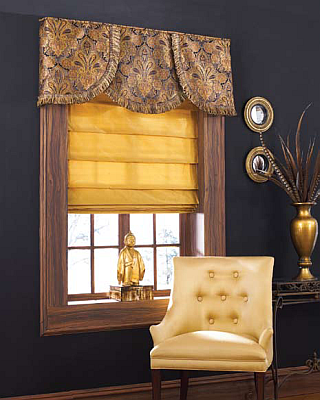 New blinds can really alter the look of your room and are an important part of your interior decorating project. When you are choosing your window blinds there are a number of varieties of style, material and color on the market. Window blinds can be a significant investment so it is worth giving some consideration to all the types available before you make your final decision.
Firstly you will want to decide between horizontal and vertical blinds. Depending on the look you are hoping to create, horizontal blinds are more often used in the home as they tend to give a softer effect. Vertical shades are more frequently used in offices, but if you are aiming for a modern, minimalist look they can be great for your home too. Some of the choices in horizontal shades are outlined below.
Roller blinds are a traditional style of vinyl window shade, which roll around a pole when drawn up. Many people favor neutral shades such as white and cream that blend well with any décor and bring light to your room. There are more lively varieties available however, with modern roller blinds available in bright colors, fashionable designs and stylish patterns. Roller blinds are available with a choice of hem designs including scalloped, notched and curved.
Roman blinds are more in vogue than their rolling predecessors. They are of a simple design, a rectangle of material, just larger than the window, which can be drawn up towards the ceiling in folds of equal size.
A close relative of the roman blind is the cascade blind. These are also made from a simple rectangle of material, but are designed to be drawn up in folds of different sizes. These shades have embedded pull cords, set a few inches from both edges. When the blind is fully extended and then pulled up, a cascade of material is formed in front of the window.
Another version of the same principle is a fan shade. Instead of having a pull cord on each side, the fan blind has just one, straight down the middle. When the fully extended blind is partially pulled up, a fan shape is created, leaving part of the window uncovered to let in light.
A balloon blind is made by gathering material in scallops all the way across the window. This is achieved using a drawstring system. The design of a balloon blind can be altered by leaving out the drawstrings at the edges of the window. This causes tails to drop down on either side of the window. A skirted balloon is another similar design. The drawstrings do not run all the way to the bottom of the blind, so a flat section is left for the fabric scallops to fall against.
Other relatives of the balloon blinds are the cloud and Austrian shades. The cloud version has a gathered section at the top of the shade creating an interesting affect. The Austrian blind uses much more material, so that even when the shade is lowered to cover the window, there are scalloped folds covering the full length of the blind.
Pleated blinds are a simpler version of balloon blinds. They are made from concertinaed paper or material, which is flat when fully extended. The folds get tighter as the blinds are drawn up.
Finishing touches to shades can include tassels, fringing and ribbons. Blinds may be used on their own or in conjunction with curtains or drapes. You need to carefully select the right combination of color, design and fabric to give your shades the required feel, whether that is traditional, warm and cozy, or modern, clean cut and funky. Blinds are not necessarily a very expensive item so you could experiment to achieve the right look without a great deal of expense.
Visit us : http://www.blindsontime.com/store/Horizontal-Shadings/