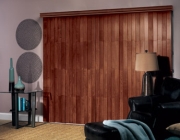 Vertical window blinds are an inexpensive décor idea. They add a lot of value to your rooms by enhancing the rooms' looks with their graceful drapes. Vertical window blinds can be a good way of covering windows when one is not keen on curtains or other types of window coverings.
Vertical blinds can be made in various materials. Aluminum, vinyl, wood, faux wood and even fabric is used to make vertical blinds. It is personal preferences that decide the material to be used for making vertical blinds.
Vertical blinds can be operated with ease. Rotating the vanes or drawing them away from the window opens out the blinds, providing a peep into whatever lies beyond the window.
Aluminum vertical blinds are very popular as they are a very cost effective window covering option. Kitchens and bathrooms where humidity levels are high are ideal locations for vinyl vertical blinds. Vinyl is sturdy material and not easily damaged by humidity.
Wooden vertical blinds can be used in rooms which have wooden furniture. The undulating effect created by usage of similar material will give an impression of added space. Living rooms and bedrooms are ideal for wooden blinds as they do not stand up well to humidity and need a more controlled environment.
Wooden vertical window blinds are pretty expensive and fall into the most expensive category of blinds. Consumers who are very keen about the wooden look but do not want to spend so much can opt for faux wooden vertical window blinds. Faux wooden blinds are wood look-alikes and have the looks of wood but all the advantages of vinyl. Like any other vinyl blind these faux wood vertical blinds are easy to maintain and do not fade easily.
Fabric can also be used to make vertical blinds. Fabric vertical blinds are made using inserts to provide shape, stability and for ease of tilting.
Vertical blinds are controlled by using either cords or safety wands. Safety wands are more durable and thus more preferred over cords by most customers. Vacuuming, dusting or wiping with a soft damp cloth is sufficient to maintain vertical window blinds.
Visit at:- http://www.blindsontime.com/store/Verticals/