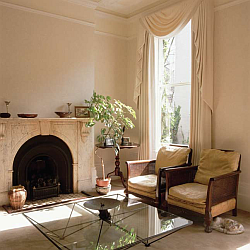 Because of window treatments' location between outside light and the interior of your house, they are one of the easiest ways to change the look of your home. Curtains are the most traditional window covering. Curtains and drapes can be combined with venetian or wood shades to take a traditional window covering to another level.
When buying new window treatments to spruce up your home, the first step is to get accurate measurements for all your windows. You will save yourself thousands of dollars on this simple step because on many homes, all windows are not the exact same dimension.
When measuring for new wooden blinds, you do not need to add the extra inches for folding drapes. Many home decorators are opting for more "green" wood blinds. A good option for environmentally friendly blinds are bamboo or matchstick roman blinds.
Bamboo is a good choice because its fast growth rate makes it very sustainable. Wooden blinds are also very pleasing to the eye because they combine the warmth of wood with the classic venetian blind. While roller blinds and classic cellular blinds can come in many colors, wood actually has more options. Wood blinds can come in all kinds of hardwoods, as well as stains and finishes. Depending on your wood and finish selection, your window blinds can look anything like a country mansion to a classy study.
Vertical blinds are not used as window coverings as often. Vertical wood blinds are more commonly used as coverings for sliding doors or as room dividers. When cleaning blinds, be areful of using solvents or too much water as it can make the stain dissolve.
Visit us : www.blindsontime.com