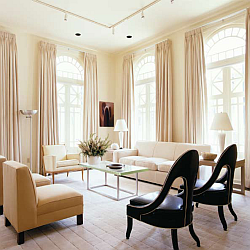 Vertical blinds are superior to other window treatments for sliding glass doors in may ways. For starters, vertical blinds are usually much less expensive than other options. They do not take as long to make, and the material to make them is cheaper than both plantation shutters and cellular shades. The only part of a vertical blind that takes any time to manufacture is the track or head rail. The slats normally come already punched (each slat has a hole punched in the top to attach to the head rail mechanism) and just have to get cut to length. The track, valance, and slats for a vertical blind can be built in less than an hour. A bypass door system on the other hand can take may hours to finish. This extra labor is added to your cost at time of purchase.
The material to build a vertical blind is also cheaper. The vertical consists of an aluminum head rail and pvc louvers (they can also be fashioned from cloth) where as plantation shutters use pre fabricated wood, vinyl, or composite material. A cellular shade is made from a special paper like fabric which is also more expensive than vertical material. The biggest factor in determining the cost of a window treatment is the material and verticals are the clear winner in this case.
The biggest advantage verticals have over their competition is durability replacement cost. A lot of us have young children or pets at home that often get into our windows or sliders. A cellular shade will not last a day with a dog that jumps on the windows anytime there is a knock at the door. A vertical blind however is made from sturdier material and will withstand a pet jumping on them. If your pet decides to take a bite out of slats, they can be easily replaced by the consumer. If your dog were to chew some louvers of your plantation shutter, the whole door will typically have to go back to the factory to get repaired. Keep in mind, warranties on your window treatments do not cover pet damage. When paying to have the treatment fixed, you will be paying the original square footage base price plus labor.
Another often overlooked advantage of vertical blinds is the ability to change out the louvers. If you decide to paint your room, change the decor, or just feel like changing with the seasons, the louvers of a vertical blind can easily be taken out and new ones put in. This is something the homeowner can do themselves and should not require any installation fees from your retailer. Simply measure one of your louvers, or take one down and bring it with you, and tell the salesperson how many of them you need to have made. What other window treatment gives you this flexibility?
Visit us: http://www.blindsontime.com/store/Verticals/