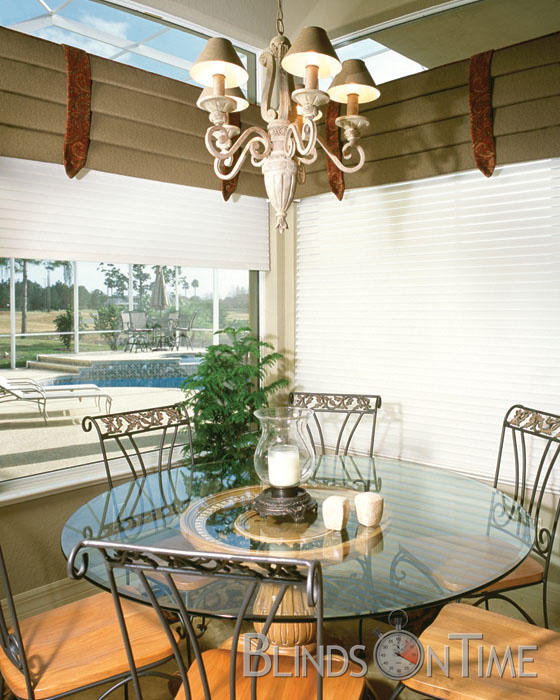 The wrong window treatments can put a major crap in your remodeling style. Get professional advice and get the window shades and blinds that put the perfect finishing touch on your newly renovated space, whether it's your bathroom or your study!
When you're putting the finishing touches on a newly remodeled home or room, the right window shades can make a huge difference in the overall outcome of the space. Selecting the appropriate style, performance, and even materials can ensure your new window treatments coordinate with the look of the room as well as provide you with the practical function you need. Window shades and blinds aren't one-size fits all–so don't try to make one style fit all! Contact your local window treatment dealer today to get the customizable window coverings that are perfect for your newly remodeled space.
Just imagine putting bulky, heavy velvet drapes in your newly created master bathroom suite. Not only would their appearance clash with your Caribbean spa feel, the fabrics would quickly succumb to mold and rot in the high humidity of the bathroom. But if you choose woven wooden shades or composite wood horizontal blinds, you'll get a material that's capable of withstanding years in a humid environment and a style that flows cohesively with the look of the space. And that's just one example of how window shades and blinds can make or break the final results and appearance of your remodel.
But with professional window treatment specialists on your side, finding the best window coverings for your style and needs is simple and easy. In fact, most even offer in-home consultations for your convenience! These experts will guide you through all of your window treatment options, from plantation shutters to Roman shades, and help explain the qualities and features of each different product. Offering suggestions about resiliency, style, and quality, your window shade pros can help match your newly renovated space with precisely the right window covering.
So what are you waiting for? Get the best window shades and blinds for your new space today. Don't let the wrong window treatments mess up your dream of a beautiful renovation! Enlist professional help and it's smooth sailing for all of your window blinds and shades.
Visit at :- http://www.blindsontime.com/store/Horizontal-Shadings/