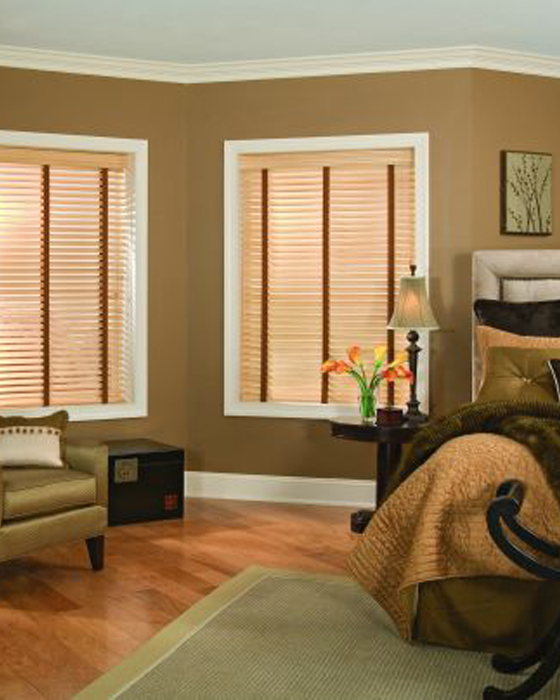 There are significant advantages of faux wood window blinds over wood blinds. Foremost of these is cost. What makes faux blinds a popular choice is that they have the elegance and look of wood, but they are much less expensive, easy to maintain and easier to assemble than their natural wood counterpart. They are made of quality products so you can stay within your budget and still get a window covering that will be long-lasting and durable.
Though discount faux window blinds are indeed much less expensive, they are not made from cheap materials.
Produced from composite wood materials and vinyl, or solely from PVC (polyvinyl chloride), faux wood gives the appearance of wood, but it is cheaper and less costly to manufacture. This makes them very durable, long-lasting and many come with a life-time warranty.
The durability of the cheaper faux window blinds over authentic wooden blinds makes them a perfect choice for extreme climates and high humidity rooms. If you're planning to window treat a kitchen or a bathroom, it's a better option for you to acquire faux wood blinds. Mildew, moisture, humidity, and fluctuations in temperature could damage blinds made from wood.
These elements could easily cause costly defects such as staining and rotting. With faux blinds you have no deterioration at all. An added bonus; some faux wood products available in the market today have ultraviolet (UV) inhibitors that assure further protection against harsh sun rays.
Thus you have another advantage when purchasing discount faux window blinds – the reduction of heating and cooling costs! Another durable component of faux blinds – you do not see the fading, scratching or cracking that comes with wood blinds.
Maintenance is another advantage. Faux window blinds are easier to clean than most any other window treatment product. They clean by simple dry dusting or using a damp rag and your ordinary household detergent. These are also ideal window coverings for homes with children as they are sturdy and resilient. Stains or marks left on them by your children could easily be wiped off. On wood blinds washing them could cause damage to the finishing, or worse it could cause timber warping.
If you love buying an affordable window treatment that will look just as good as real wood blinds, you will want to consider purchasing faux window blinds for your window coverings. They offer the elegance of wood, but at a fraction of the cost and maintenance.
Visit us: http://www.blindsontime.com/store/Fauxwood-Blinds/