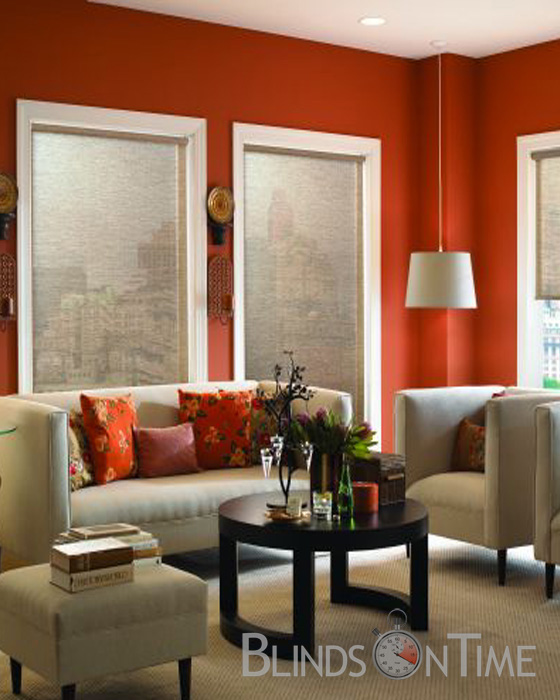 This is the second article in a series which intends to offer a complete answer to this common question. Knowing the history of each company and where they came from reveals the logic behind their respective strategies and the rationale behind their product offerings. The past informs the present.
Somfy, a French company, once supplied precision components to the European clock making industry in Montblanc. In 1967, the company entered the motorized awning industry, providing durable motors for exterior awning applications.
Still today, Somfy is the market leader in awning motors. In the mid 1990s, Somfy leveraged its core competency of building tubular motors for opening and closing sun shielding awnings and introduced a line of motors intended for interior sun protection; motorized window shades.
There are certainly similarities in the awning and window treatment business, generally, both contend with sunlight by extending and retracting (or raising and lowering) fabric. At first glance, it might seem that window shades are simply interior awnings.
However, the specific details of the interior motorized shades market are very different from the exterior awning market. In terms of products, there are a limited range of awnings styles, colors and fabrics. Choices for window treatments are practically unlimited. In this way, awnings are akin to garage doors whereas window treatments have more in common with fine furniture.
In deciding how to bring its motors to market, Somfy followed its successful model in the motorized awning industry where it sold motors to awning dealers and fabricators. In a similar way, Somfy opted to sell its motors to companies that sold traditional window shades. Here again, the industries were different.
Awning providers were likely to possess construction skills whereas window shade dealers had a softer set of skills that leaned more towards design. These new dealers certainly did not have technical backgrounds in electronics or motors.
The challenge was teaching electronics and technology to a crowd more comfortable with fabrics and color matching. Somfy had to teach the basics of how to motorized roller shades using Somfy motors, how to plan wiring for shade power and control, how and when to involve an electrician and of course how to present and sell motorization to end users. Its success today is a testament to how well Somfy was able to educate its dealers. But one thing they did not foresee was a new competitor from a different industry…
Lutron traces its roots back to 1961, when it introduced the world's first dimmer switch. Today, Lutron is a dominant player in the lighting industry. The company sells a wide range of products, from basic light switches in retail stores to elaborate, customized lighting control systems for residential and commercial applications through a network of dealers/installers.
Several factors contributed to Lutron's decision to enter the motorized shading industry. First, as a lighting control company, Lutron knew that sunlight played a major role in a home's overall lighting design.
The company's slogan is "Lutron Controls Your Light" and it saw that this could (should) be applied to 'natural light' as well as 'artificial light'. Second, it was witnessing the window treatment industry fumbling with the technical aspects of motorization adoption. Third, new entrants into the lighting control field were challenging Lutron's dominant position and pressuring margins.
Fourth, a new market, termed 'home automation' was growing rapidly and lighting control was quickly becoming a sub component of total home automation systems. For all of these reasons, Lutron wanted (needed) to differentiate itself and its dealer base with what it hoped would be a 'game changing' product line.
In the late 1990′s, Lutron purchased Vimco, an established, medium-sized window shade company. Lutron then combined its newly developed, proprietary motor, the QED or Quiet Electronic Drive with Vimco shades. The QED made big waves in the industry for being practically noiseless.
This was a classic example of redefining the parameters of competition in an industry. Before QEDs, consumers did not even know that motor noise level would become a factor in their purchase decisions. It took several years for Somfy to catch up to the QED's noiselessness which gave Lutron a significant advantage as it launched its new motorized shading division. Despite this feature advantage, the company faced an uphill battle.
The opposite of Somfy's dilemma, Lutron's challenge was (and still is) teaching fabrics and color matching to a crowd more comfortable with electronics and technology. Lutron's dealers had no experience in the window treatment industry. For this reason, Lutron recognized that simply providing motors and controls (like Somfy) would not be sufficient.
Somfy's path, informed by its experience in the motorized awning market, did not make sense for Lutron given their dealer base and channel structure. Lutron knew that to be successful, it had to make selling motorized shades as easy as possible for its dealer network.
Recognizing that it had to teach a whole new industry to its lighting dealers, Lutron (wisely) started with functional 'natural' light control. This strategy was also dictated by the fact that Vimco manufactured a limited selection of functional solar and blackout window shades – all were roller shades. Over the years, Lutron has expanded its product offering to include a greater variety of styles and designs of window coverings.
Today, Lutron is a full-fledged window treatment fabricator. This presents new challenges and opportunities which will be covered in future articles.
Couched in this historical context one can now (hopefully) appreciate why each company offers what it does the way it does. From this vantage point, one can properly evaluate and appreciate the specific details and differences relating to product performance, available features and pricing. Subsequent articles will cover these important topics, delving deeper into motorized shade specifics.
Visit us: http://www.blindsontime.com/Roller-Shades/