Let's take a trip to Southeast Asia.  You will find some of the most incredible shores in Thailand.  Beautiful, clear turquoise waters and bright white sands are ready to sweep you into tranquil paradise.  Southeast Asia is all about Zen and their land certainly reflects that.
Next on our destination list is India.  India is a very spiritual country full of philosophies and meditation.  Some people travel to India just to become a more spiritual person and find peace.
Now let's take these two remarkable serene places on Earth and incorporate them into your living room!  You will have a place to relax after a long day of work, or simply on your day off.
The middle photo below is a shore in Thailand and what inspired me to choose these colors. Here are a few of my selections to bring these two locations together: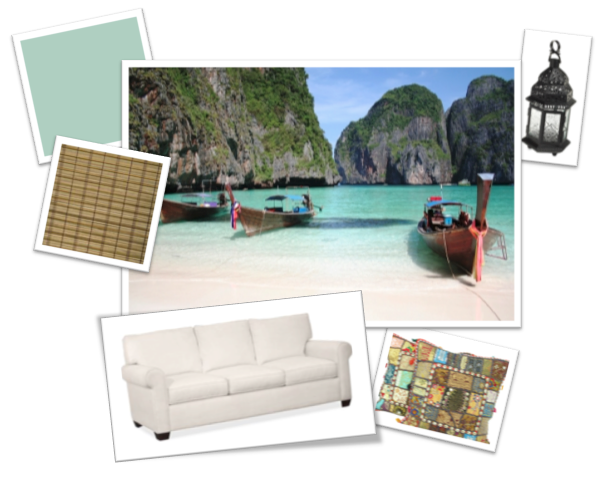 1.         Sherwin Williams – The water is a relaxed sea foam green, so I chose the color Aloe for the wall.  It represents the water without being too cliché about it.  It is a color sure to bring some airiness and light into your space.
2.         Blinds on Time – I chose Blinds on Time's Woven Wood Shades Designer series in Bamboo Dusk for the windows.  They are high quality, affordable, and customizable! With Southeast Asia's bamboo and India's traditional straw roofs in the south, I had to bring some wood and color into the space.  It also reflects the wood on the long-tail boats in the photo.
3.         Pottery Barn – Pottery Barn's Buchanan Sofa in Cream will bring the light colored sand into the room.   Just as you sit on the sand you will sit in this sofa and see the room, ready to soothe you.
4.         Eyes of India – Pillows are what usually bring a room together, and these Indian-style pillows bring India—and the shore—into the space.  These pillows have many colors, but do not clash with the color scheme.  The seashells make them beachy and the sea foam green colors reflect the water, or in this case, the walls.
5.         Bed Bath & Beyond – These Clear Glass Moroccan Lanterns are not Indian, but they do a magnificent job in marrying the embroidery in the pillows and the protruding rocks in the background.
So if you're looking for a way to bring some calm into your living area and have some time to unwind or meditate without breaking your budget, this is absolutely the way to go.