Don't settle for the holiday wreaths that superstores have to offer this season. Time to showcase your decorating skills with these holiday wreath ideas. The great part is that they can be made with inexpensive items and are very easy to make! Simply buy a foam wreath form, and hot glue the items!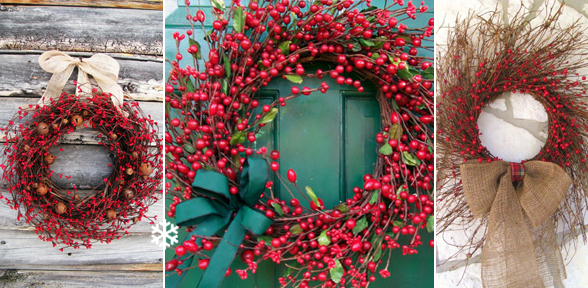 Rustic Countryside
If you live in the country, or you're going for a charming and rustic look this season, these red berry wreaths are the perfect choice! The burlap bows do a great job in adding a softer, comfy look to the rugged wreaths. For some extra Holiday cheer, replace the burlap bow with a smooth green/white bow of your choice. You can add a few tan colored bells to add some extra texture.  If you want your wreath to be browner, concentrate the berries in the center of the circle and fan out the twigs like the wreath on the right. Don't be afraid to intertwine the twigs into a chic mess. The messier, the better!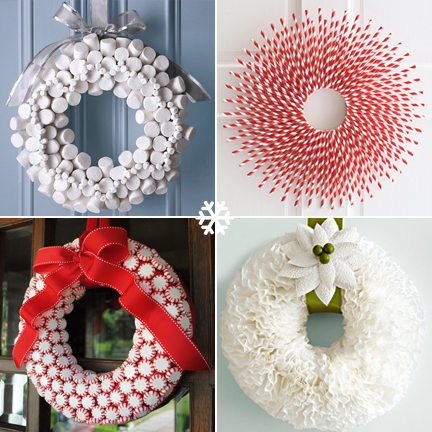 Delightfully Eccentric
Do you love to think outside the box? These wreaths will definitely reflect your personality and bring some whimsical elegance to your home. Going clockwise, the first is made of marshmallows, the second is made of candy cane patterned straws, the third is made of coffee filters, and the fourth is made of peppermint candy. A floral ring will be needed for the straw wreath instead of a foam form. You can also dip the coffee filter wreath into color dye to match any color scheme you choose.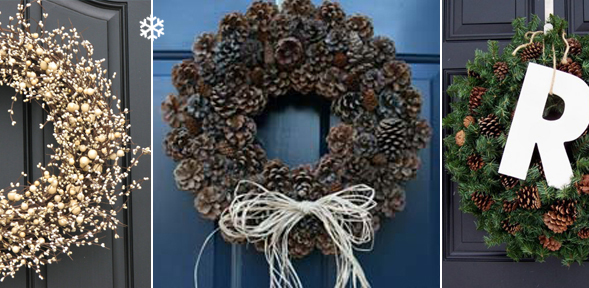 Natural Beauty
Muted brown and earthy tones made of natural materials; these wreaths will subtly accent your home.  The pinecone wreath will be the most inexpensive to make if you live in a piney area. Just go outside, pick the cones you like, and get gluing. You can also add a quirky twist to a traditional evergreen and pinecone wreath by hanging your family's initial in the middle painted any color you wish.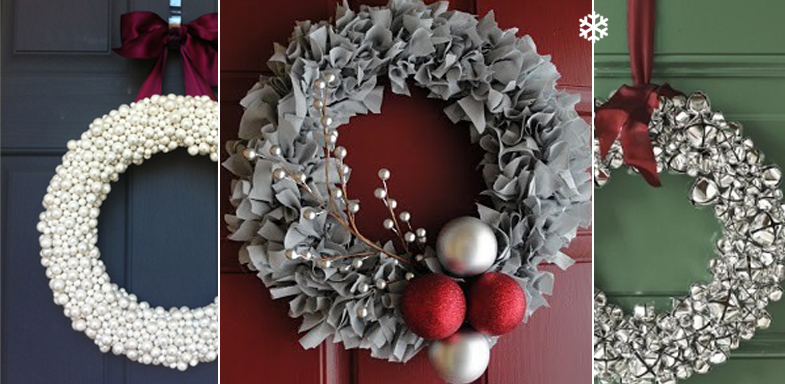 Sophisticated Simplicity
Who says your outside decorations can't be delicate and beautiful? Silk bows, pearls, and silver shining bells will bring beauty to your Holiday décor. Simple never goes out of style, so these wreaths will be with you for years to come. Jingle bells are overlooked as a Holiday decoration, and including them into a wreath is a great, unique idea. I also love how the ornaments and sprig of pearl berries resemble a modern mistletoe.
You can make these yourself and customize them according to your Holiday color scheme, or you can purchase them on Etsy. You'll be sure to impress your family and neighbors with these wreaths ideas. Get crafty!