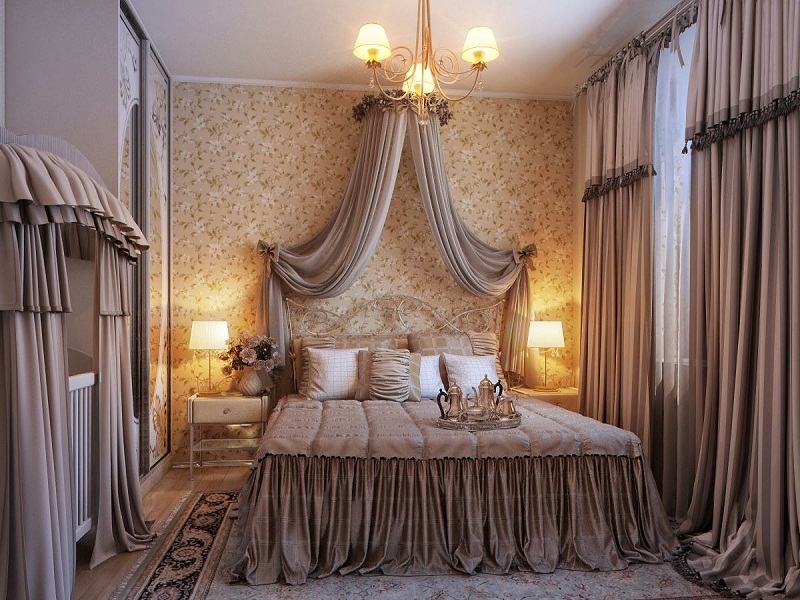 Modern romantic decor is all about brining our childhood fantasies about living in a castle to life! It's all about bringing a fairy tale to life within your home. You can easily user modern romantic decor to make your home feel as if you are living like royalty.
Elegant decor can make your room look dated. Sometimes it's as if we stepped inside a time machine and flew into another century. But, there is a solution. We can mix modern design with traditional and elegant design to create a gorgeous and modern romantic room with these elements: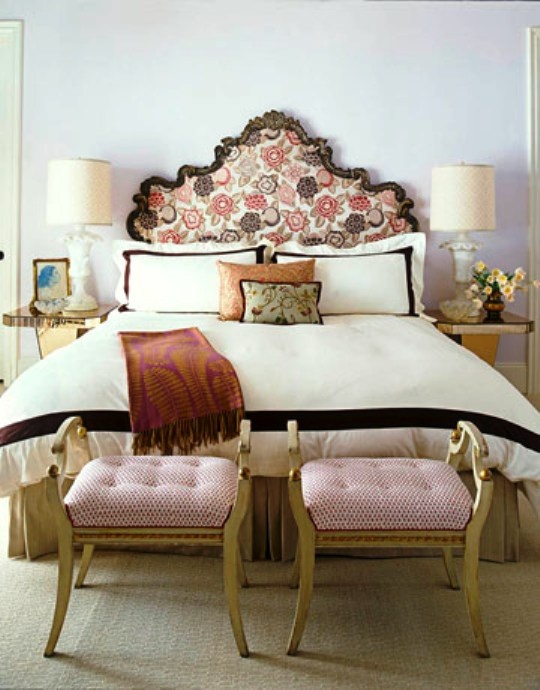 Balance – The trick in doing this is finding the right balance between modern and traditional furniture or fabrics. The photo above shows a great example of this: traditional headboard, modern bedding, traditional benches that have been reupholstered with modern fabric. The crisp, clean lines of the bedding soothe the intricate curves of the headboard. The bedding is a solid black and white because of the patterned headboard and benches. If the bedding were also a pattern, they would clash and cause a design disaster!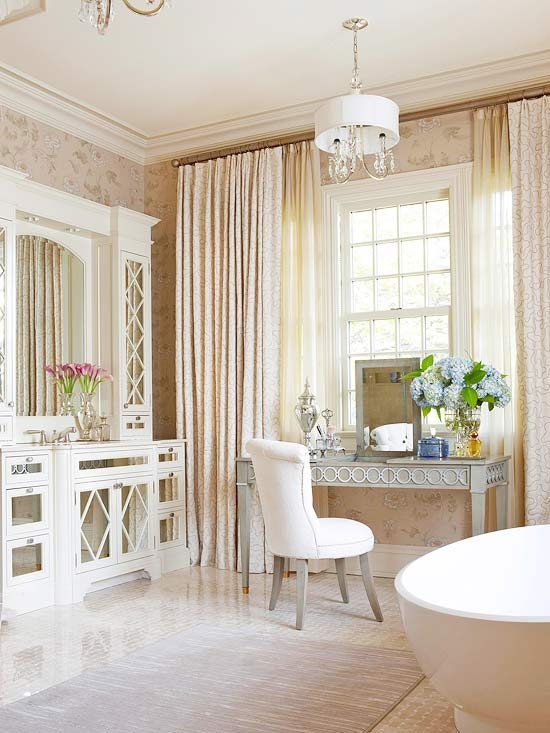 Draperies – Look at how elegantly those draperies fall! One thing you will notice is how drapes play a key role in creating a romantic room. Look at any old photograph in aristocratic homes and you will see tall and gorgeous draperies by every window. Remember, balance is important. If your walls are a solid color, patterned curtains will be acceptable, but if they are not, keep them a pattern that is slightly noticeable or none at all.  At BlindsOnTime, we have drapes that can be custom made to fit any room and still stay within your budget. Your guests will think they cost a fortune! Don't worry, your secret is safe with us.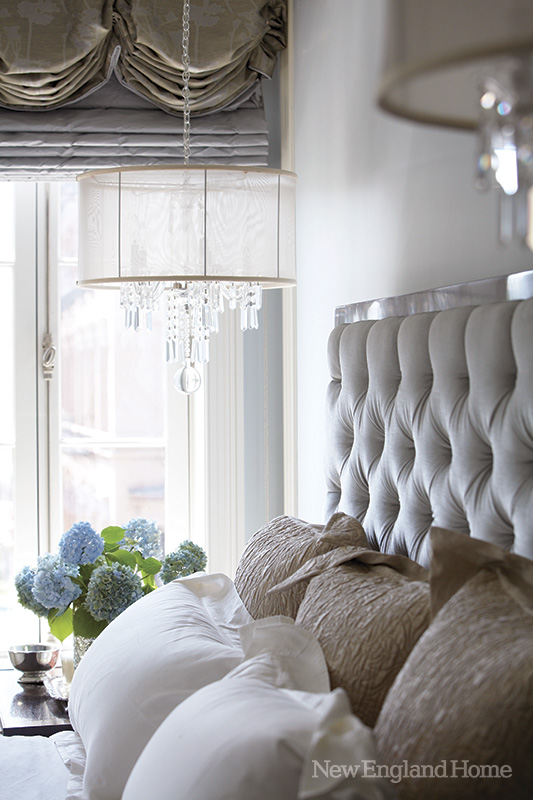 ( Image via NewEnglandHome )
Chandeliers – New, old, or in between, there is a chandelier for all of us! You can place one in the middle of the room, or you can place them at each side of the bed like in the photo above. These classic chandeliers have been modernized with a simple shade around it, which makes them a perfect selection for our desired room. They can be placed above a vanity, above a nook or a dining table. Anywhere, really. Have fun with choosing the right style and size of chandelier for your room.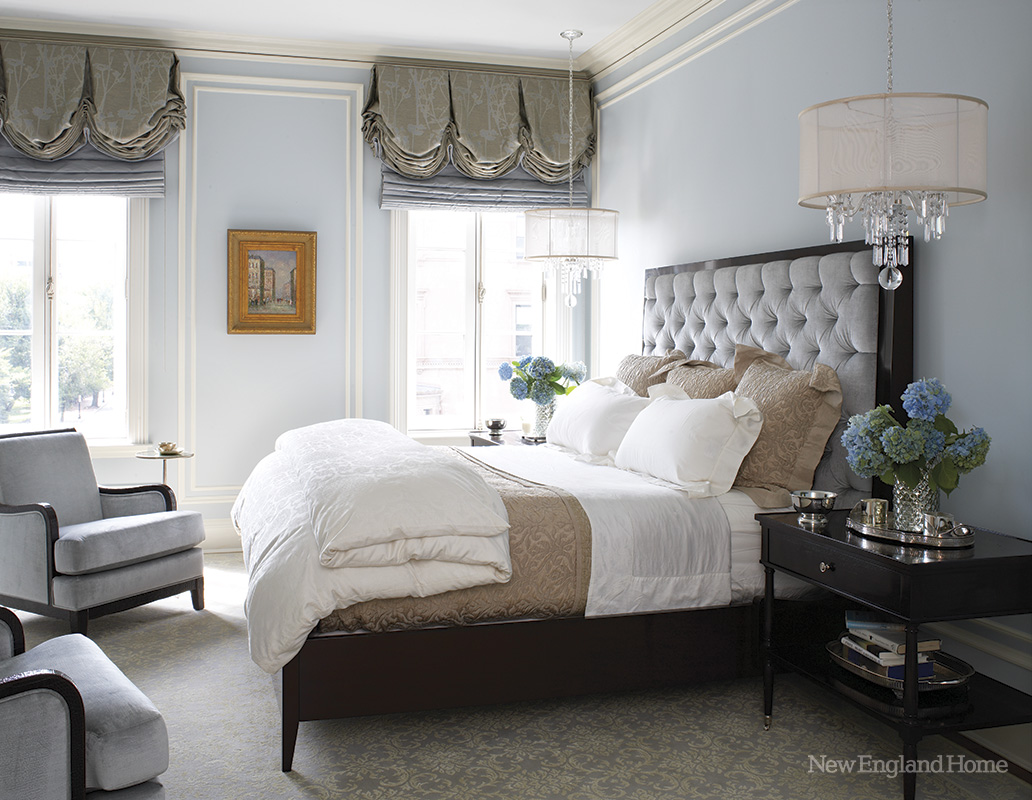 ( Image via NewEnglandHome )
Classic Details – There are certain classic elements in a room that add detail without you noticing it, but all-together make a difference. A large vintage rug, silver antique platters, crystals, flowers, pastel walls, tufted furniture or headboards are among the few. Bring those classic details into a modern home, even if only a couple. Make them a statement in a simple room and they will change the entire look.
Don't be afraid to try to mix and match! Going to antique shops and searching for home accessories is fun and exciting. You will see that your home will turn out to be unique, stylish, and classic all at once.