People spend on average 40 hours a week in their home office so we decided to feature our top 5 home office design ideas to help spruce up your space! Your office may either be small and generic cubicles, or a bland and boring room. Why bring that boring atmosphere home with you? With our 5 home office design ideas, your home will be a pleasant place to enjoy.  In order to have a lovely and functional office, consider these characteristics before designing: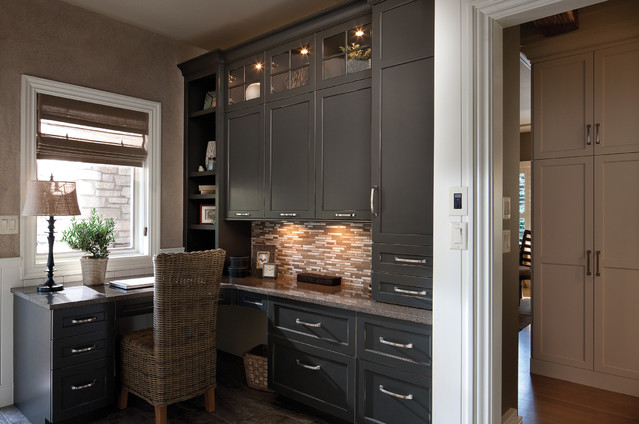 (Image via  Houzz.com)
Storage: Storage is key to keeping a clean workspace. No one wants to walk into their home office, and see piles of paper and folders all over their desk.  It almost scares you away! Custom cabinets are a great solution to storing your office supplies, files, and equipment. It gives you flexibility to create exactly what you need in the space. Check out KraftMaid.com to get some ideas and find a retailer near you.
If you can't build cabinets because you are thinking of moving out soon, or you are renting, then another option would be a modular bookcase with some nice storage boxes or baskets.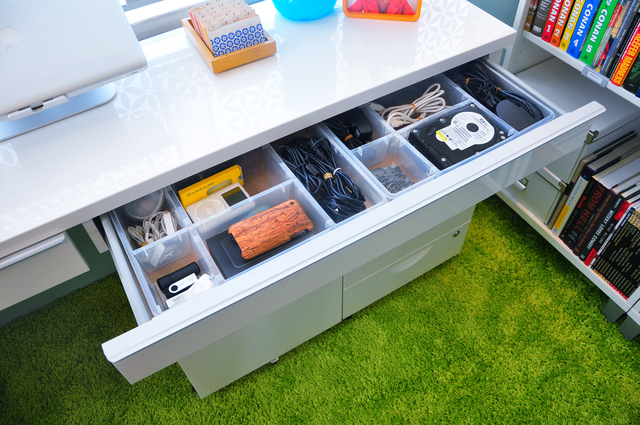 (Image via ApartmentTherapy.com)
Organization: Now that you have storage figured out, you have to think about how to effectively organize everything to get the ultimate use out of your space.  Think about it this way; when you grab your clothes and throw them in a box, it takes up a lot of space.  Now try folding those same clothes and put them back in the box and you'll see that they will take up almost half the space. The Container Store is a good place to find anything you need.  When you are organized, you know exactly where everything is, saving you time and stress.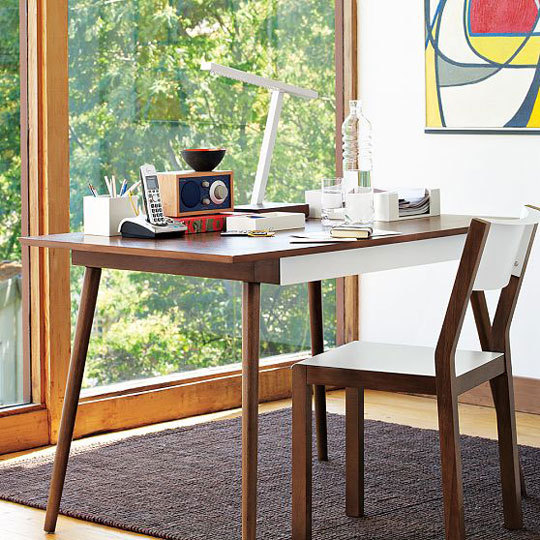 (Image via WorkChic.com)
Lighting: Improve your productivity by improving the lighting in your office; preferably with sunlight. Try arranging your desk to face the window. When a room is dark, your inner clock registers it as time to start getting ready for bed, so you find yourself yawning more and feeling tired.  When a room is bright, you feel awake and energized because your mind thinks it is morning.
If you want sunlight without it affecting your room temperature, consider looking at BlindsOnTime's cellular shades. They not only filter light, but they insulate your room as well.   Another option would be their wood blinds for optimum light control.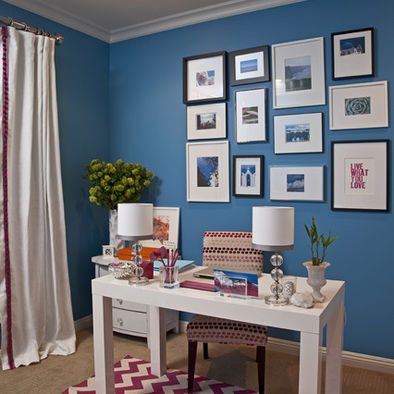 (Image via  Houzz.com)
Color : Just like the lighting in a room affects your productivity, so does your color choices. Warm colors (reds, yellows, and oranges) make you invigorated and detail oriented, while cool colors (blues, greens, and purples) soothe and calm you. If you need something in between, any neutral color will make you feel comfortable and ready for work.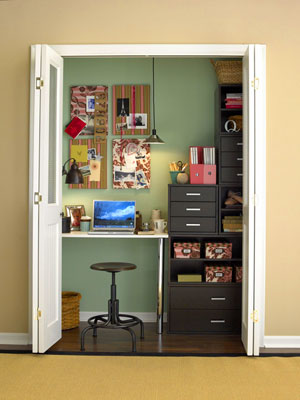 ( Image via CasaSugar.com)
Space Planning: If you have a small home, you need to make most of "dead space." Dead spaces are areas of your home that aren't being used such as under stairs, or empty closets. Open a closet, put a small desk with some storage next to it and voila! Another great option for small spaces would be buying an office armoire.  Just close the doors and no one will know.
Combine all of these qualities and you will have a happy and productive workspace. You can also try adding some of these qualities to your own office or cubicle at work and share these tips with your co-workers.