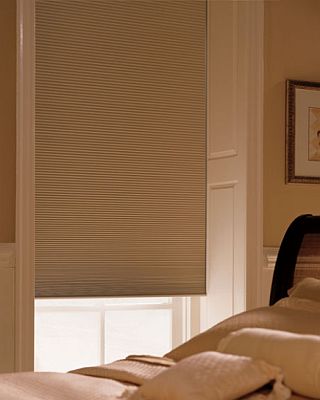 There are several reasons why someone would want room darkening blinds. If you work night shift you would appreciate having the opportunity to sleep in the dark. If you live near a building or city that has lights to shine into your room you would also appreciate a dark room. Sometimes simple things like that can be distracting when you are trying to go to sleep. That is a great reason to purchase blinds that can darken a room instantly and help give you a good night's rest.
Energy-Efficient Honeycombs Not only are these blinds nice to darken a room but they are also great for other reasons such as being energy efficient. They have cellular design which means that they have visible pockets that can be viewed from the side. This gives a honeycomb look and is more energy efficient than other blinds. The more cells there are the more efficient the shade will be. So the larger the cell size the more insulated it will be.
When the air circulates inside of the cells the air becomes trapped and unable to escape. This helps keep the heat inside and the cold outside. This will save you money on your heating bill since the heater will not kick on as often. The shades are soft and durable so you will be able to clean them without worrying about them breaking apart. You can purchase the honeycombs in single, double or triple for more efficiency.
Suitable For Any Room
The room darkening blinds are also available in several different shades so you can find something for almost any room. They have a fabric feel to them and can warm up any room. Even though they are cellular shades, you can still raise them up and lower them as you need to without affecting their design.
Extras To Choose From

There are several extras that you can elect to purchase when you find the right blinds for you. You may be interested in the motorized blinds that allow you to lower and raise them from anywhere in the room. You can raise your blinds to catch the morning sun before you even get out of bed in the morning. You can also choose to have cordless blinds in your room or your child's room. This is also a great idea if you have pets as they tend to play with dangling strings.
If you have never purchased this type of blinds before, you can find a wide selection online to help you make your decision. You can choose any color and design you think will look great in your room. When using them for the first time you may wonder how you ever did without them. You will sleep better which will make your life much easier.
You can install your own room darkening blinds and it is very simple and easy to do. They will come with simple step by step instructions for easy assembly and minimal tool requirement. Before you start your search make sure you have all your window measurements easily accessible so you will be able to purchase the best blinds for your needs.
Visit us: http://www.blindsontime.com/store/Blinds/