Stores everywhere are stocked up with Valentine's Day decorating things- pink and red is everywhere! With Valentine's Day around the corner, is your home feeling the love too? Here are a few of our favorite last-minute Valentine's Day decorating ideas for ways to spread the love in your home! It is never too late.
Wreaths
I know what you're thinking. Wreaths for Valentine's Day? Yes! It is a quick and easy way to decorate the outside of your home. It's also unique! Most people wouldn't think about making or buying a wreath for any other holiday besides the holidays. It will make your guests feel welcome even before they step into your home.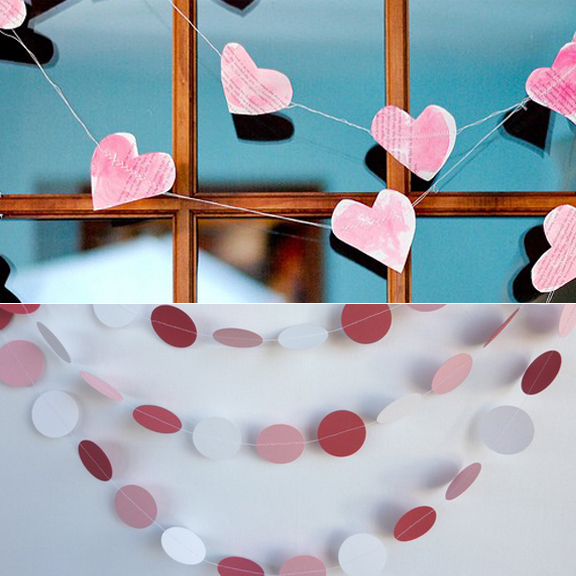 Garlands
Valentines Garlands are really easy and affordable to make. They can be put anywhere in your home! Take a day and enjoy it making garlands with a loved one. You'll need to buy colored paper, string and glue. Then cut hearts, circles, or whatever you like, and paste them on the string. Ta da! That's it.
There are many ways you can hang them. Try making a bunch with the same length and hanging them by your window like vertical blinds. Another great idea is taking a long garland and hanging around on a chandelier above your dining table to create the look of hearts falling into the center of the table. Maybe you have a display on your mantle and it needs a little something extra? The possibilities are endless.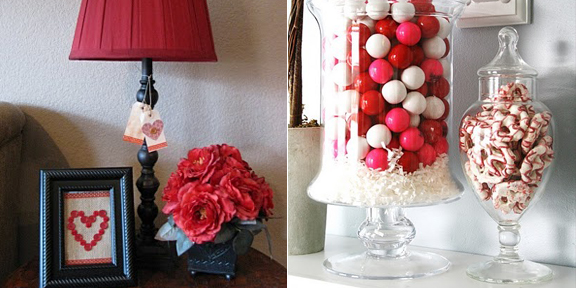 Pink or Red Accents
If crafts aren't your thing, adding random pink or red accents all over your home is for you. Remember to keep it simple! These next few tips are for things that you have around your house that can be turned into Valentine's decor in no time!
Do you have a lot of candles? Replace all of them with red or pink candles. It can get pricey, though. If you don't want to splurge, and you have white candles, buy a small ribbon that has hearts or a red/pink color, and wrap it around the candles with a bow.
Do you have picture frames? Make some quick heart "photos" to put in the picture frames like the photo above. Just like photos are different, try to make each frame have it's own character.
Lastly, my favorite Valentine's Day decorating idea, apothecary jars! They are really a great item to purchase if you want a quick and stress free way to decorate for any holiday! Replace your holiday apothecary fills with heart candies, Valentine colored jawbreakers, or Valentine M&M's. I even saw someone fill their jar with pink marshmallows!
Don't just stop with your home– take these ideas and use them in your office as well! Share these ideas with your friends and colleagues and cheer up the office.