Celebrating Halloween only lasts a month.  So having some easy Halloween decorating ideas and tactics will ensure that there is little hassle, yet full effect, for your home. It's always exciting and fun to decorate, but it isn't so much fun to put everything away. These easy halloween decorating ideas will make your home spooky and full of Halloween spirit!
After Halloween comes Thanksgiving, and thankfully these two holidays share something in common: orange. This common color allows for Halloween to smoothly transition into Thanksgiving without the stress of heavy packing and unpacking. These easy decorating ideas for Halloween will certainly help you for years to come!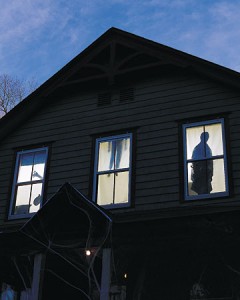 (Image via MarthaStewart.com)
One way to bring Halloween to both inside and outside your home is by your windows.  They are what connect your home to the outside, and they should definitely be taken advantage of. To create the photo above, try using our Roller Shades in a white color.  Next, buy a thin black fabric of your choice and draw the silhouette you want.  Cut the silhouette and sew it to the shades.  An easier option would be to draw the silhouettes onto the shades and paint them black. TA-DA!
Apothecary jars are also a flexible way to decorate your home this Halloween.  Simply replace what you currently fill the jars with, and fill it with any candy you'd like.  In this case, I chose candy corn to bring in the orange and a classic Halloween feature, purple M&Ms, and some black plastic spiders to make people cringe.  You do not have to strictly use apothecary jars, you can use any clear jars you have in your home to complete this look.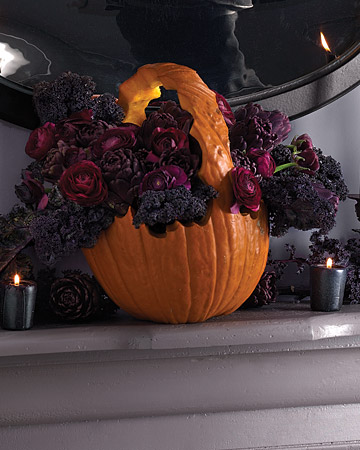 (Image via MarthaStewart.com)
Pumpkins with dark purple flowers are also a great way to add the ghostly feel to your home.  For this look, hollow a pumpkin and carve it to the shape of a basket.  Then use your choice of dark, dead looking flowers to fill it in.  This is a great example of decorating with versatility.  Once Thanksgiving arrives, lose the creepy flowers and fill the pumpkin with acorns or fall flowers.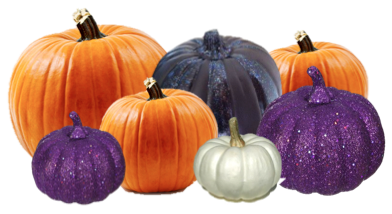 Lastly, the trendy glittered pumpkins!  These are so much fun to make.  You can also turn this into a family craft project to bond as a family.  Create purple and black glittered pumpkins in anyway you'd like.  You can make stripes, polka dots, or solid glittered ones to name a few.  Make sure to have more orange and white pumpkins. That way when Halloween is over, all you have to do is take away the purple and black ones and you're ready for Thanksgiving.  These can be used outside sitting on bales of hay, throughout your home, or both.
These easy Halloween decorating ideas are all magnificent ways to prepare for this eerie holiday and prep for the next!  After these basic things are in place, you can focus on the small things like replacing your regular candles with black ones, adding cotton cobwebs, and making other small crafts if you dare!