Need some decor gift ideas for the 'decorista' in your family? We have got you covered. Here are seven decor gifts we picked that are sure to please!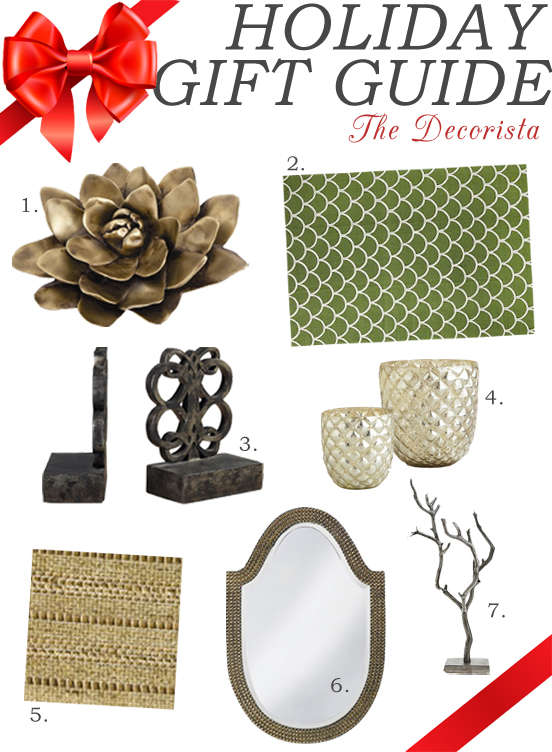 1. Shop Ten 25 Corsage Accessory – ($ 230) – This gorgeous corsage accessory is perfect for any space in your home. You can use it as a paper weight in your office, a finishing piece on top of books, or by itself.
2. Urban Outfitters Stamped Scallop Rug - ($ 44 – $199) – Graphic patterns are trendy, and this rug from Urban Outfitters will give your room style and color without much effort.
3. Bellacor Book Ends In Durand Bronze Finish – ($ 124) – These bookends are sleek, yet ornamental at the same time. Hold them against a light colored book for contrast.  That way they become a slight statement piece on your bookshelf!
4. World Market Silver Hexagonal Mercury Glass Hurricane Holders - ($ 7.99 – $12.99) – Add some sparkle with these glass hurricane holders. Put some candles inside at watch them glow at night and give your space a warm feel.
5. BlindsOnTime Woven Wood Shades Premium – ($80.96) – We chose our premium woven wood shades, but you can also take a look at our other woven wood collections! With our wide selection of window coverings and styles, there's a gift for everyone on your list!
6. Pulp Home Lancelot Mirror – ($ 168) – We love this curvy and magnificent mirror from Pulp Home! It's a great piece to hang above a console table as a focal point framed with two table lamps.
7. Urban Outfitters Little Birch Jewelry Stand – ($ 32) - Why buy a boring jewelry stand when you can have this beautiful sculptural one instead? We promise they'll love it.