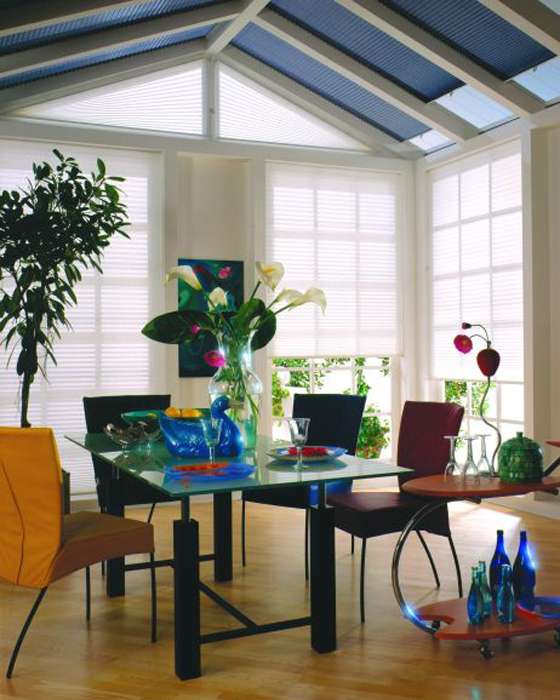 If you live in a cold climate, you would know that you can lose a lot of heat through a window that is not properly installed or is leaky. The same window that allows sunshine in and lets you enjoy the snowy scenery outside can also be costing you a lot by wasting energy. Energy that is wasted can in turn hike up your utility bills. If your window is leaking the warm air outside, your heaters would have to work overtime compensating this loss, which would result in higher energy bills.
The best solution to this problem is installing insulated Roman shades. They are one of the most efficient and cost effective window treatments for the home. They are affordable and extremely versatile. They not only help insulate the room, but also provide a classy and stylish look to the interiors. Insulated Roman shades come is a variety of rich colors and textures that help them lend a graceful and regal look to the room.
These blackout blinds come in single or double shades. Both of these types consist of a lighter fabric and a heavier one. In a single insulated shade, both these fabrics come as a single unit, combined to each other, while in the double shade, each of them is kept separate. Double shades are ideal in winter for windows that face south. The heavier fabric can be raised during the day time allowing heat and light to come in while the lighter fabric blocks the glare of the sunlight. During nighttime, both fabrics can be pulled down to provide perfect insulation to keep the cold drafts out. These shades can be either mounted inside or outside the window.
In order to offer perfect insulation, the window should be inspected thoroughly before installing the shades. Any gaps or cracks in the window should be repaired and sealed to prevent thermal leakage. Weather stripping should also be added around the window to provide additional insulation. After the area surrounding the window is fully insulated, then the insulated Roman shade can be installed for effective protection from the cold outside.
Visit at :- http://www.blindsontime.com/store/Roman-Shades/