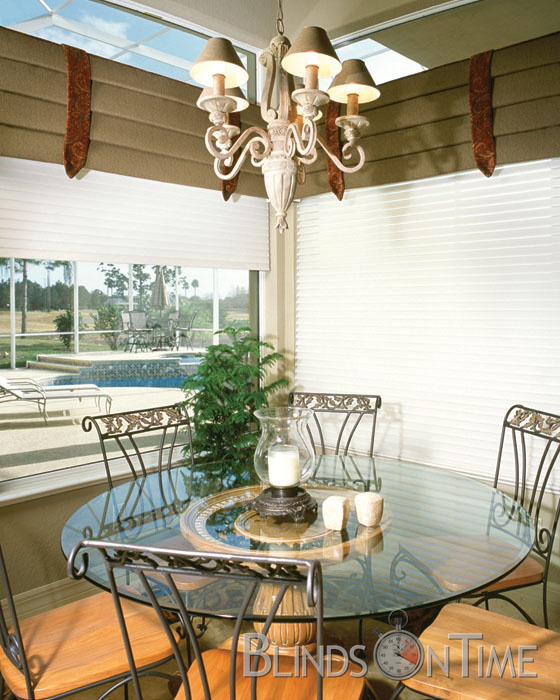 Roller Shades
BlindsOnTime Roller Shades for Windows offer style, function and environmental consideration. It's easy to create an environmentally conscious home by choosing Eco Friendly fabrics, screens and weaves. Our Fabric Roller Shades offer an array of colors and choices, manual or a motorized roller. Check out our fabrics that coordinate with Ballet® Performance Drapery Styles and Harmony Vertical Cellular's.
Pleated Shades
Stylish textures, superior craftsmanship, and an array of contemporary colors make our Window Pleated Shades as functional as they are beautiful. The single layer fabrics of the Pleated Window Shades have superior pleat retention for crisp, clean lines top to bottom. So…don't worry about sagging and flattening. And if you want a little extra privacy for you and that special someone, a light filtering or room darkening liner can be added to your Window Pleated Shades for those intimate moments. These pleated shades have it all and will give you a fresh clean look…day in and day out.
Horizontal Shadings
Combining the softness of a cellular shade and the functionality of a horizontal blind, our Horizontal Shades offer softness and beauty – not to mention tough-as-nails durability. Light diffusing vane and double sheer fabrics blend to create a unique visual experience.
View the world with sheer wonder or block it out completely with our Room Darkening Window Shades. Either way, you'll bask in the luxurious beauty of these amazing Horizontal Shades – day or night.
Roman Shades
If you are looking for unparalleled elegance and rich beauty, look no further than our Window Roman Shade collection, combining the insulating benefits of a cellular shade with the beauty of drapery fabrics.
The Roman Window Shade has gained a tremendous amount of popularity in the last few years because it adds a pleasing, distinct impact to any room. A Window Roman Shade also has the ability to block out all outside light so it is perfect for bedrooms, rooms with entertainment systems, or any room where a high degree of light control and privacy is desired.
Visit Us: -  http://www.blindsontime.com/store/Horizontal-Shadings/