Fabric roman shades are versatile ornaments for any type of window décor. They can enhance the look of your window while providing the warmth and elegance of a fabric without compromising on style. Roman window shades have adorned windows for centuries without losing their charm. The wide range of options suiting every taste is what makes them a widely popular choice.
Window shades do not merely have ornamental value but are also meant to serve several basic functions. Besides providing privacy, they help in controlling sun light as well as act as insulators for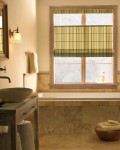 the window. The clean sophisticated lines of the shade give it a neat look. These can be used alone to dress up your window. For a more formal fabric window theme, layering roman shades with curtains or drapes with a contrasting colour is an excellent way to enhance the overall look.
There are wide variety of styles and fabrics being used nowadays. These include silk, linen, suede and weave combined with natural materials like grasses, reeds and others. Its flat design allows for smooth and easy operation. Fabric roman shades are best when made from light or medium weight fabrics and are mostly lined. These shades use lesser fabric as compared to curtains and take very little space.There are many different types of fabric roman shades, each having its distinctive appeal. The flat roman shade offers the traditional look. It hangs flat when lowered and folds up neatly at top when raised. Then there are blinds with overlapping folds for a hobbled look. The Austrian shade is quite similar to the balloon shade and adds volumes of character to a room. Then, there are also some other types like roller blinds, relaxed roman shades, tulip roman shade,and so on. These blinds can be conveniently lifted to any level you want.

Cleaning your shades' fabric is not very difficult. You can regularly vacuum to avoid dust and dirt from accumulating in the fabric folds.  Foam cleaner can also be used for deeper cleaning, depending on the type of fabric. In case of fabrics like silk, dry cleaning is recommended. These fabrics can also be treated with anti-static or stain-resistant finish in case of extensive use.
If you are confused about what would be best for your windows' treatment, then first understand your requirement. Research for available options and match them with your needs. Seek professional advice, if needed, before you get your fabric roman shades.
Visit us : http://www.blindsontime. com/store/Roman-Shades/