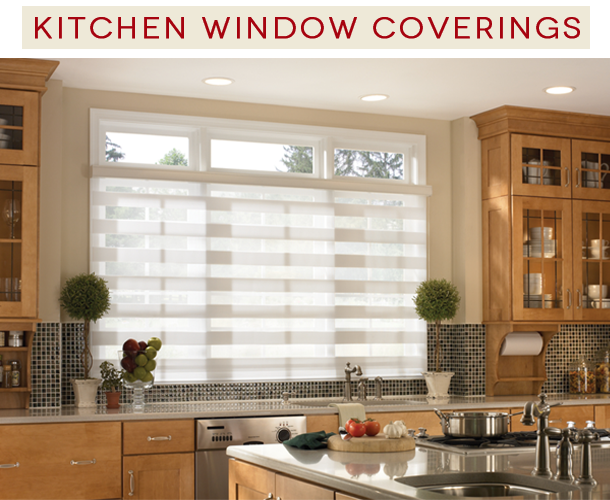 Six Great Kitchen Window Covering Ideas
Want some kitchen window covering ideas? Spruce up those windows with these six easy-to-do ideas:

1. LESS IS BETTER
Heavy window coverings are out of style. Try replacing them with something simple like roller, or pleated shades. Another idea is to use an upholstered cornice, or a flap valance, to make the windows look dressy without excessive fabric. For an elegant look, try using a simple set of sheer panels and top it off with a beautiful valance.

2. LIGHTEN UP
Natural light in the kitchen is essential. Pleated shades allow plenty of light to shine through without sacrificing privacy, giving any space an airy feel. Try using white or light blue pleated shades to give the space a positive, sunny atmosphere for guests to enjoy.

3. CHOOSE TRENDY COLORS
Don't be afraid to experiment with fabric styles! Use contemporary shades and prints for a modern twist. Earthy, clay tones are perfect for a southwestern look. Look around your home and get inspired by pillows or paintings and coordinate your window treatments with them. Remember: dark colors make an oversized kitchen look cozy and more inviting, whereas light and cool colors make a small kitchen seem larger.

4. TRY SOME TEXTURE
Another hot trend that adds texture to your kitchen is the use of natural woven wood shades like bamboo, or rattan. This will give your kitchen privacy and provide a stylish, warm feeling in the kitchen.

5. LIGHT DIFFUSION
We love our kitchens to be bright and cheery, but too much direct sunlight can affect room temperature. No one wants to cook or eat in an uncomfortably hot kitchen. Wood blinds, woven wood shades or light diffusion shades are great solutions.

6. CONSIDER SOME CURVES
Our kitchens typically are filled with straight lines of tables, appliances, and countertops. So mixing in a window covering with soft curves is a great idea – especially if your kitchen is on the small size. Arching a valance over the sink, or using a curved cornice makes your kitchen window stand out.